Group Fitness
Group Fitness Resumes May 18th!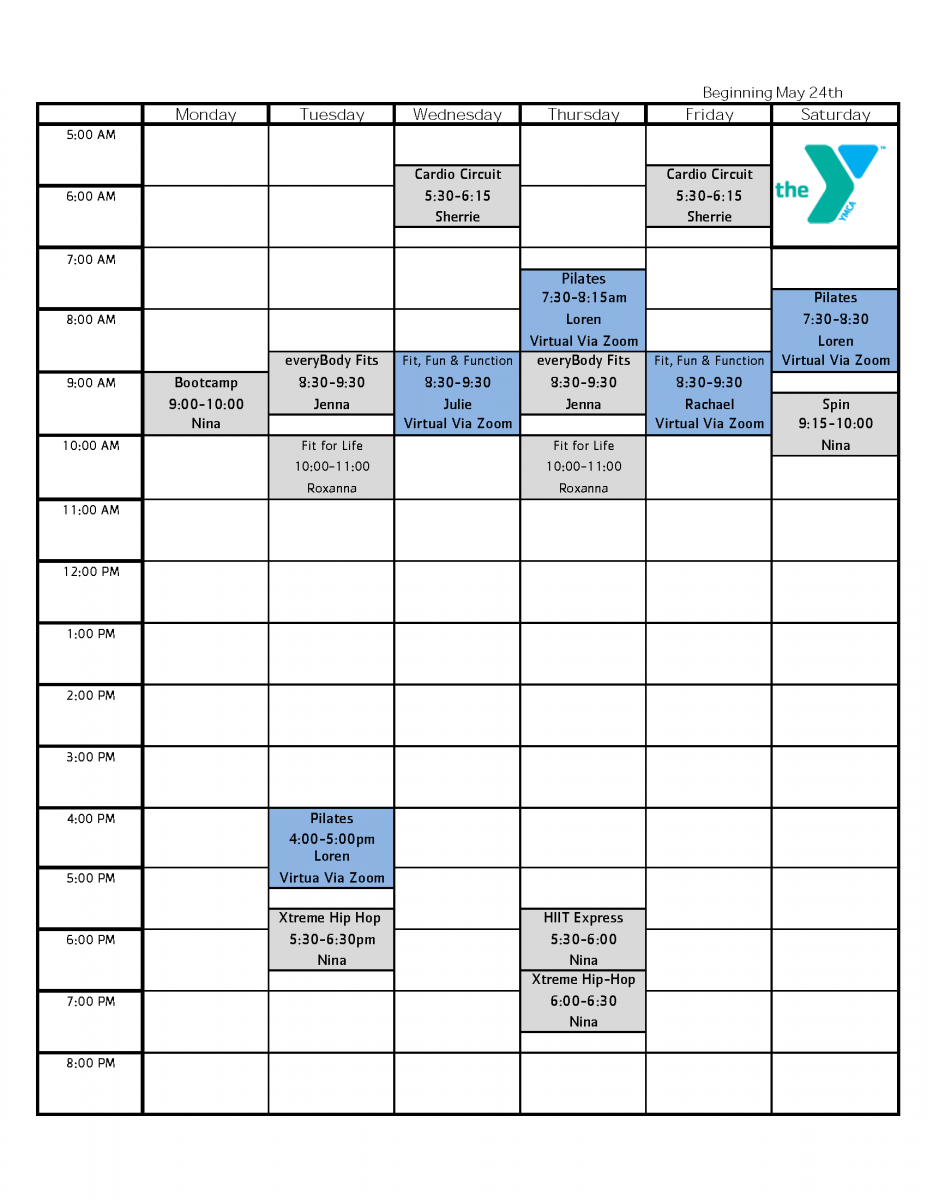 Email info@spartawhitecountyymca.org to be added to the ZOOM invite list. Download a copy of the schedule here.

Social Distancing Boot Camp
Monday, May 25th • 9:00am (with Nina)
Email info@spartawhitecountyymca.org or call 931-836-3330 to reserve a spot
Class Descriptions

Cardio Circuit
This class is a combination of low to high-intensity aerobics, resistance training and designed to be easy to follow. It will give you a great workout, target fat loss, aid in muscle development and heart-lung fitness. All fitness levels.
Fit, Fun and Function
This challenging class will help progress your fitness level through a wide range of class formats, training tools, and motivation. A higher intensity program, each class will provide something new to keep you fit, functioning well and having fun.
Fit for Life
Fun and upbeat, low impact, strength training and muscle toning workout that focuses on core exercises to keep your back and abdominals strong. Strengthens your legs for fall prevention and staying ambulatory. Plus, low impact cardio for maintaining weight loss goals. Stretch muscles to prevent injury after working out. Work at your own pace.
Group Cycling / Spin
Spin your way through a high energy and fun cardio workout. Bike work focuses on leg strength and cardiovascular endurance. All fitness levels.
Pilates
You will learn the fundamental movements of classic Pilates while strengthening your core and lengthening your muscles. All fitness levels.
Strong & Fit
Circuit work using various equipment that combines strength, core, and cardio to incorporate all muscle groups. All fitness levels.
Xtreme Hip-Hop
A revamp of traditional step aerobics. With routines set to old and new school hip hop, it makes you want to get up and move while getting a great calorie burn.
Class Descriptions

HIIT
High Intensity Interval Training - High intensity intervals with shorter rest periods to help increase cardiovascular endurance. Includes use of dumbbells, bodyweight exercises and cardio. Modifications are offered.